Handling machines for the circular economy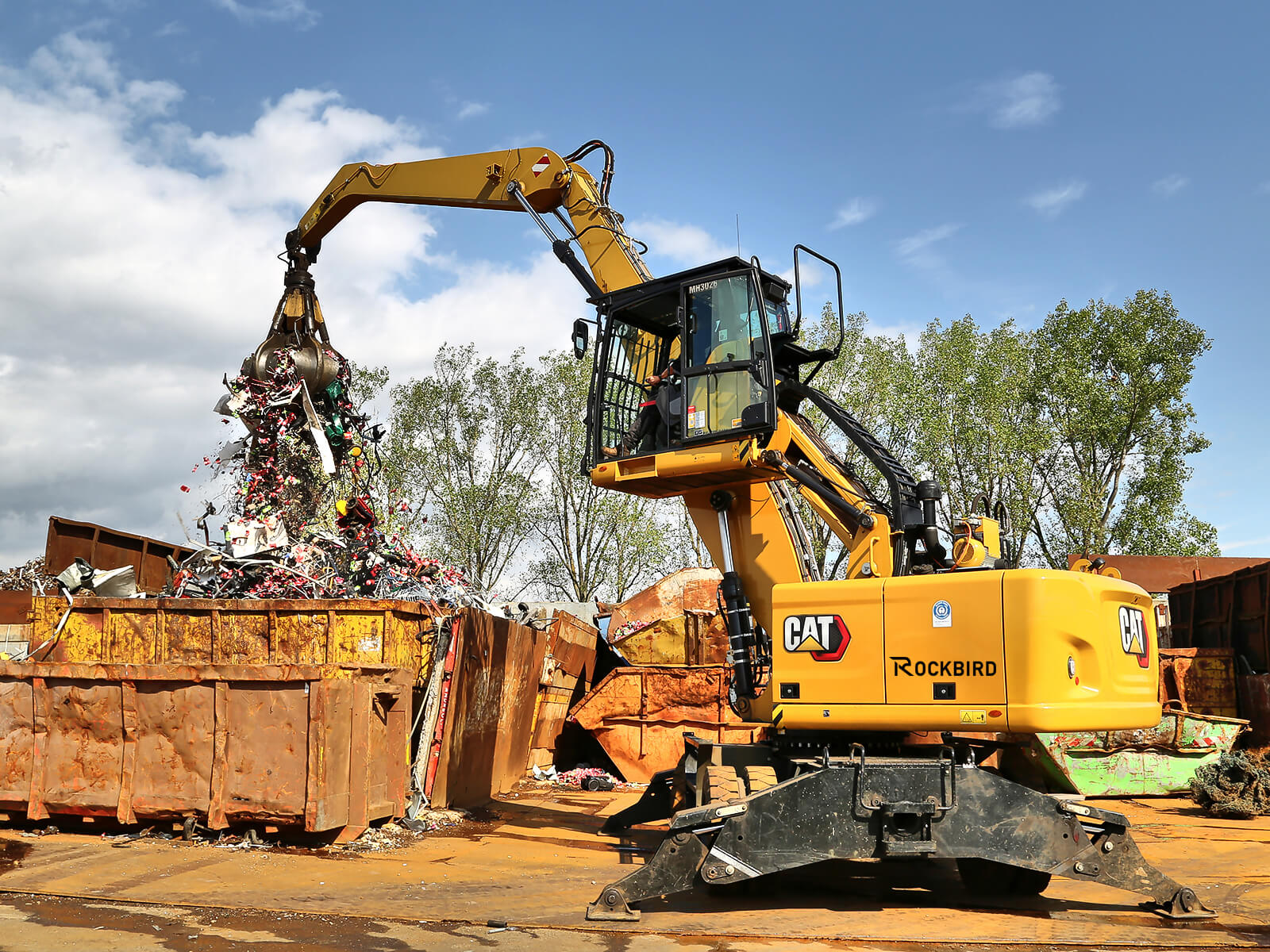 What you always wanted to know about "the heroes of the heaps" in the ROCKBIRD rental fleet.

Handling machines are specialized in material handling, i.e. loading, sorting or shifting, of various materials and goods. They belong to the category of construction machinery. In most cases, they are specially designed or modified wheeled excavators. Mobile excavators are excavators that have wheels instead of a crawler chassis and are therefore faster and easier to move on solid ground. The versatile handling machines, also known as material handling excavators, are used in forestry for timber handling as well as in the port for goods handling or demolition work.
Application areas of a handling machine
Our customers are predominantly active in sectors of the circular economy, such as recycling and waste disposal. They are, for example, specialised companies for waste management and the extraction of secondary raw materials, scrap yards for metal recycling or biomass cogeneration plants in which sustainable energy is generated from waste wood. In short, wherever loose material and bulk material has to be handled, where refuse, construction waste, scrap or wood chips are moved, powerful handling machines with various attachments and purpose-optimised equipment are in use. The loading of tippers or containers for the transport of goods, the feeding of shredders and the sorting of waste or scrap metal on a stockpile for further recycling are among the demanding areas of application of a handling machine.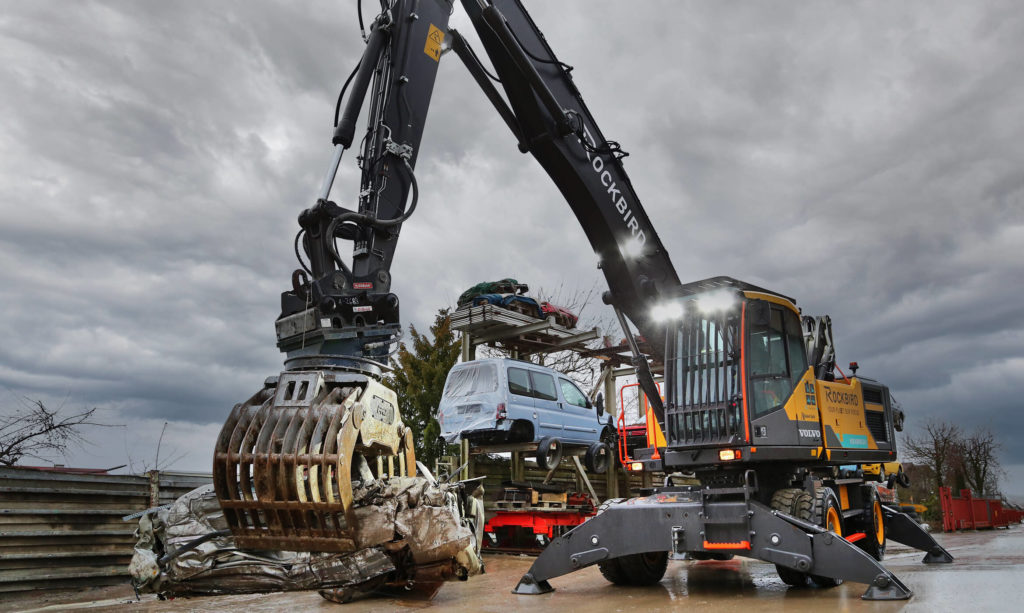 Manufacturer and model variants
There are numerous models of material handling excavators on the market, in different variations. They are also called material handlers and therefore have an "MH" in the type designation of many brands. Well-known manufacturers such as Caterpillar, Fuchs, Sennebogen, Liebherr, Atlas or Volvo offer material handlers that start at an operating weight of around 20 tonnes (t) and a working radius of 10 meters (m). The currently largest handling machine, a hybrid model from Sennebogen, presents itself with a total weight of over 400 t and a reach of up to 40 m. The handling excavators in the ROCKBIRD rental fleet, which are used in recycling at waste management companies or in scrap yards, generally have an operating weight of 24 to 30 t and a reach of up to 13 m depending on the equipment, i.e. the modular configuration of the excavator arm.
Taking into account the intended use and local conditions, the machine should be individually configured for material handling before purchase to enable best handling performance and avoid unnecessary costs.
How much space is available for manoeuvring and what dimensions make sense?
How far does it have to be driven and on what surface?
What material is to be handled or transported?
What payloads are required and do partition walls, quay walls or similar obstacles have to be overcome?
Are other tasks such as sorting or crushing planned?
What attachments, such as grabs, magnets or scrap shears, are required for this and how often do the tools need to be changed with a quick coupler?
We discuss these and other questions in consultation with our customers and use our many years of experience in the industry to configure the most economical solution for their individual needs.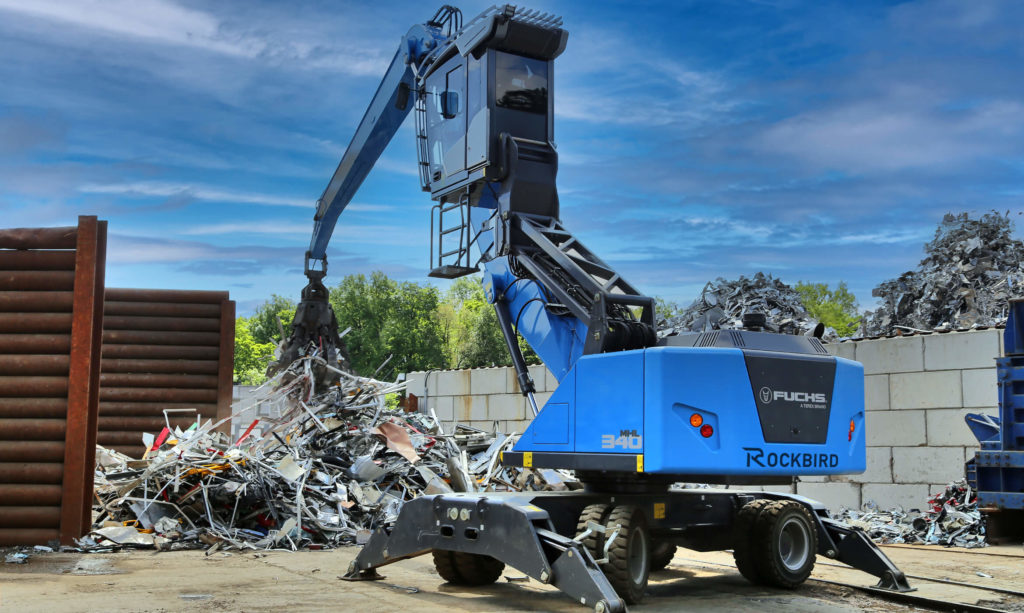 Structure and special features of handling machines
Mobile material handlers can be driven back and forth flexibly due to their tires and therefore often work more economically than tracked excavators. On paved or concrete sites, such as a scrap yard, solid tires are the right choice for the wheeled excavator because they are more resistant to damage from foreign objects. When used off-road, pneumatic tires provide more slip resistance. Twin tires with intermediate rings are often used.
The rotating upper carriage of the material handler excavator is connected to the undercarriage by a hydraulically driven slewing ring. This gives the machine operator a 360-degree working range. Stability and safe footing are provided by the so-called outriggers or stabilizers on the undercarriage and the counterweight at the rear of the upper carriage. The four outrigger arms are folded out to the side during stationary lifting operation to prevent the excavator from tipping over at higher payloads on the stretched boom. From the elevating cab, the operator has the best possible view, which reduces the risk of collision. On some material handling excavators, the operator's cab is also raised or a pylon is installed between the undercarriage and the upper carriage for greater working height and an even better overview. This is particularly important when, for example, a high shredder is to be loaded with scrap or wood, or when a ship is being loaded during port handling.
Modern cabs offer a comfortable and efficient workplace for the excavator operator with a rearview camera and side cameras, operation using a joystick and touchscreen, as well as air suspension and heated seats. If required, a protective grille or protective ventilation system can also be installed.
Equipment, handle options and attachments
The choice of equipment, i.e. boom, stick and attachment for the handling excavator, also depends on the material and intended use and is mutually dependent. Effective in scrap handling are variants with orange peel grapples, also called polyp grapples or cactus grabs, which hang pendulously on a so-called dipper stick or "drop nose" stick. The 4 or 5 shells of the grab are opened and closed hydraulically, the rest of the movement is done by rotating the uppercarriage and lowering or lifting the boom. Instead of a grab, load lifting magnets are also used for handling ferromagnetic small parts, with an integrated magnet system and generator in the excavator.
Additional hydraulic circuits are required when a sorting grab (also called a demolition grab) or scrap shear is used. With these tools, not only opening and closing, but also finely dosed tilting and inclining is possible. A straight stick, also called universal stick, is the right option for this. As a rule, the multifunctional machines are equipped with a quick-change system. This means that the required attachment tools are always available, and sticks the exchange can be conveniently controlled from the cab.
The sticks are offered in different lengths, also with extra long reach. An operation in port handling, for example, may require a wide working radius. However, when transporting the handling machine to the site of operation, the permissible overall height of the low-loader truck must always be taken into account. The transport height of the handling excavator depends on the length and possible position of the excavator arm.
Rent handling machine

and increase efficiency
ROCKBIRD RENT.
So that renting is economical and convenient for you.
Engine, performance and hydraulics
Handling machines are offered in various "weight classes" that differ in operating weight, payload, reach, engine power and other details.
More important than the engine power, however, are the engine displacement and torque for the material handler. Here, performance is reflected in the rapid and continuous buildup of oil pressure for the various hydraulically controlled movements from uppercarriage to attachment.
The diesel engine is the most common drive variant, but numerous hybrid and electric excavators are also offered in the material handling industry. Electro-hydraulic models are used in our fleet when the machine is mainly stationary and can be conveniently connected to the power supply, for example, at a crushing plant or in a hall. The new generation construction machines with diesel as fuel comply with the emission standard (EU emission level 5). In addition to high handling performance, safety and driver comfort, the design of the robust handling excavators for recycling and scrap handling focuses in particular on reduced fuel consumption and low maintenance costs. The machines can be efficiently utilized in two-shift operation.
In addition to mobile material handling excavators, other products such as cranes (stationary or on rails), telescopic loaders or wheel loaders are used in material handling, depending on the requirements and the working environment. A wheel loader with a high-tip bucket is best suited for filling a trailer, walking floor or container with bulk material. These maneuverable, versatile loaders are also popular for backfilling a stockpile. In the ROCKBIRD rental fleet, wheel loaders are available in various sizes from 5t to 25t operating weight.
Rent handling machines at ROCKBIRD
We know the specific needs of our customers from many years of experience. Through application-oriented, digital fleet management and the rental of construction machinery and commercial vehicles for recycling, waste disposal and industry, we have been offering well thought-out and economical solutions for efficient processes for over 20 years. In addition to flexibility and planning reliability, we can guarantee availability and modern technology. Our machines and vehicles of the latest generations are top maintained and meet all current regulations. With transparent, fair rental models as well as comprehensive services, we are there for our customers and keep them mobile. Learn more about the advantages of renting and the 24/7 service of ROCKBIRD RENT.
Are you interested in a material handler for rent and would also like to rent the appropriate attachments? First information and details about our products from Caterpillar (CAT), Terex Fuchs and Volvo can be found on our websites. Other brands like Sennebogen are available.
Contact us and benefit from competent advice and cost-optimized solutions for your fleet: +49 (0)7032 309020