BEER CRATES CHALLENGE

FUN WITH EXCAVATORS
The beer crate stacking challenge goes on – why not join in?
The prospect of using a 26-tonne handling excavator to make the tallest possible stack of beer crates is enough to bring out the boy in every grown man, right? After the amazing success of the first BCC in September 2017, we went into the second round in June 2018. Lots of enthusiastic excavator fans were there. As well as plenty of fun for young and old alike, some great prizes were also up for grabs!
In September 2019, we took our ROCKBIRD BCC to the RecyclingAKTIV show in Karlsruhe. Over the course of three days, some 100 participants made some massive towers, and the winners were the happy recipients of some cool model excavators as prizes.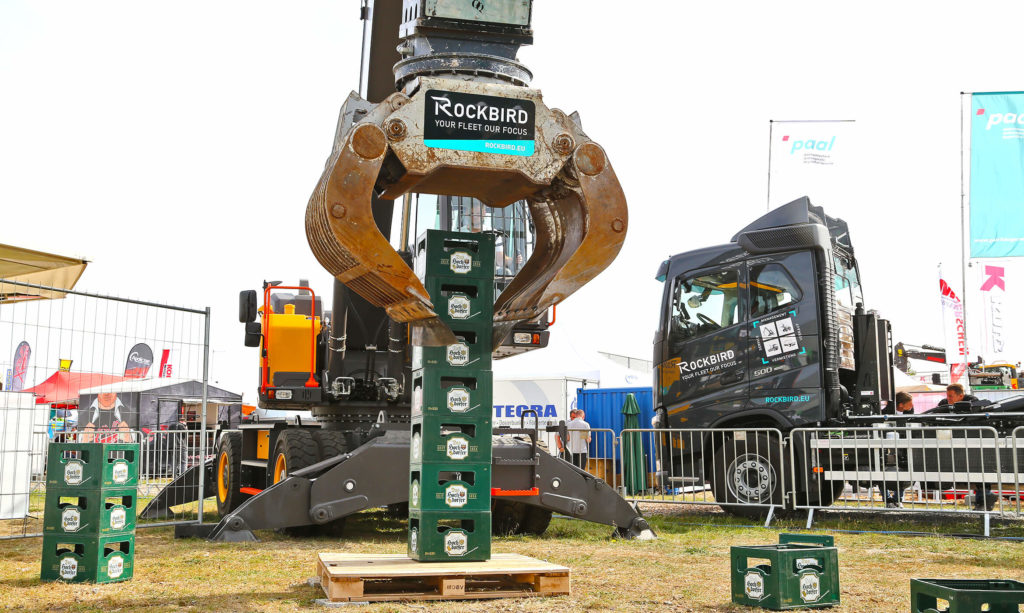 THE CHALLENGE

THE RULES
Who can take part, and what do you have to do?
The task is a simple one: in a defined period (e.g. 10 minutes), you just have to stack as many beer crates as possible, using only the grabber of a handling excavator (after having been instructed, of course!). Whoever builds the tallest tower is the winner. All the towers over a number of event days will be judged, and every participant has only one attempt. If two or more towers are of the same height, lots will be drawn to decide the winner. The winners of all prizes will be informed in writing after the BCC. Participation is at your own risk. Young people from the age of 14 can take part with the permission of their parents.
Who will be the new BCC hero?
We will let you know in good time as soon as the date for the next ROCKBIRD BCC has been set. You should then act fast to secure your place in the excavator cockpit!