Can't find what

you're looking for?
We find
a solution
Contact
us now »
Rent the best wheel loader

for recycling and industry
Wheel loaders are real all-rounders: they are not only robust, versatile construction machines, but also ideally suited for material handling in recycling, waste disposal and industry. Here, wheel loaders are usually used in combination with a high-tipping shovel in order to be able to conveniently dump the material into higher containers or trailers. The machines are characterized by excellent stability, high payload, extreme maneuverability and large pushing and lifting forces. Various materials can be transported, loaded or rearranged. We rent the right wheel loader for your requirements from 5 t to 25 t operating weight, from various well-known manufacturers such as Caterpillar, Volvo or Hitachi.
YOU WANT TO BE FLEXIBLE AND PLAN SAFELY?
At ROCKBIRD you can rent the optimally configured wheel loader and thus increase your flexibility and productivity. We provide you with manufacturer-independent advice, paying attention to low operating costs and economical fuel consumption as well as best quality and high safety standards. In our large rental fleet of construction machinery and commercial vehicles, wheel loaders from 5 to 25 tons in weight are available for your individual needs, with required dumping height, lifting capacity and engine power. Popular examples are the Volvo L110H with 18 t weight and 190 kW power or the CAT 930M with 14 t and 120 kW equipped with a high dump bucket.
Whether renting for a few weeks or several years, we have the best economic solution for you, with convincing all-round service.
THE RIGHT WHEEL LOADER FOR YOUR NEEDS
At ROCKBIRD, you can rent the right wheel loader from a large fleet to increase your efficiency. The following requirements must be checked in advance: What payload and lift height is required when using the wheel loader and what machine dimensions do local conditions allow? Will a high-tipping shovel be used or should the handling machine have an extended mast (longboom)? What bucket capacity suits the material to be handled? What engine power does the loader require and what additional equipment, such as a protective grille around the cab or a protective ventilation system? Is a weighing system, such as a Pfreundt scale, or CDC steering to be installed in the machine? Are there emission regulations or other specific requirements to be met? We configure your wheel loader for material handling versatility with years of industry experience and state-of-the-art know-how. Ordering from the factory is just as possible as retrofitting.
Construction machines such as loaders and excavators often work closely together in scrap yards or waste disposal companies. In our fleet you will therefore also find handling excavators for rent. For the transport of materials and bulk materials, you can also rent roll-off tippers and skip loaders. Telescopic loaders can also be found in our rental fleet. Our construction machinery and commercial vehicles are available throughout Germany with a large service network, as well as in Poland, Austria and Switzerland. We rent directly to business customers. Prices plus VAT on request.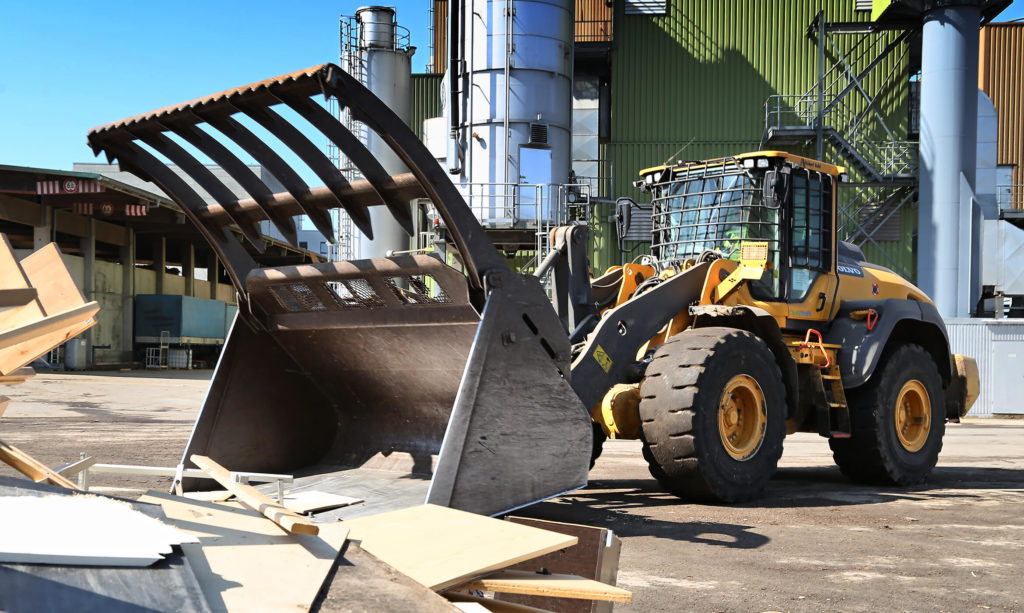 WHICH SHOVEL TO RENT FOR WHEEL LOADER?
Rent the attachments you need, such as a high-tip bucket, right away. The shovel capacity is determined by the material to be loaded, transported and handled, such as garbage, scrap metal, scrap wood or construction debris. For light, loose bulk materials, light material buckets of 5 m³ and more are used, preferably with hold-downs. However, for shovels of 9 m³ or larger, a field-of-view scan is required and, if necessary, an additional front camera to ensure safety when operating the wheel loader. A quick coupler is recommended for changing material to be handled and used. This hydraulic quick-change device allows different shovels or other attachments to be changed quickly and conveniently, making the robust, maneuverable loader with pneumatic tires even more versatile.
RENT WHEEL LOADER SIMPLE AND FAIR
You want to rent a wheel loader economically and comfortably for several months or a few weeks, exactly when you need it? We have the right solution, whether you want to rent or hire with an option to buy. Send us your non-binding inquiry now if you want to plan safely and control your costs. Trust in our 24/7 service and the availability of ROCKBIRD RENT.
Wheel loader rental at ROCKBIRD offers transparent conditions and fair prices with the best service, that's what our customers appreciate. In addition to rental and service, we offer external fleet management for your own construction machinery and commercial vehicles – benefit from our experience.