Can't find what

you're looking for?
We find
a solution
Contact
us now »
Rent your

skip loader flexible
Skip loaders consist of a truck chassis and a vehicle superstructure, the skip loading device. With this, containers or skips for various bulk materials can be picked up horizontally, set down and tipped for emptying. Like all swap body vehicles, skip loaders can also change containers quickly and easily. To do this, a container, usually from 3.5 to 7.5 tons, is attached by chains to the hydraulic structure of the skip loader and then lifted by remote control. With the help of a swivel arm system, even smaller fences or height differences are no obstacle when setting down. The total weight of the respective tipper and skip, the prescribed axle loads and the permissible total weight of the carrier vehicle must not be exceeded. Frequently, these disposal vehicles for recycling and waste management are used in confined work areas, in which case a 6×2 VLA chassis with a narrower wheelbase is recommended. A balance of maneuverability and stability should be selected.
At ROCKBIRD you can rent the right skip loader – whether with 2 axles (4×2) or 3 axles (6×2), with trailer, long-distance driver's cab or special equipment and whether for weeks or years. Increase your effectiveness and flexibility and get competent and manufacturer-independent advice. In our mixed rental fleet you will find trucks such as roll-off tippers, skip loaders or tractor units from Volvo, Mercedes-Benz or MAN with bodies from renowned manufacturers such as Meiller or Hiab.
We configure the ideal skip loader for our customers' needs: for example, a Volvo or Mercedes-Benz model with 450 hp engine power or more, 6×2 drive, 26 t gross vehicle weight and robust Meiller skip loader system, with driver comfort seat, air conditioning and numerous assistance systems for more safety. On request, we also supply the truck with painting in your company colors for long-term rentals.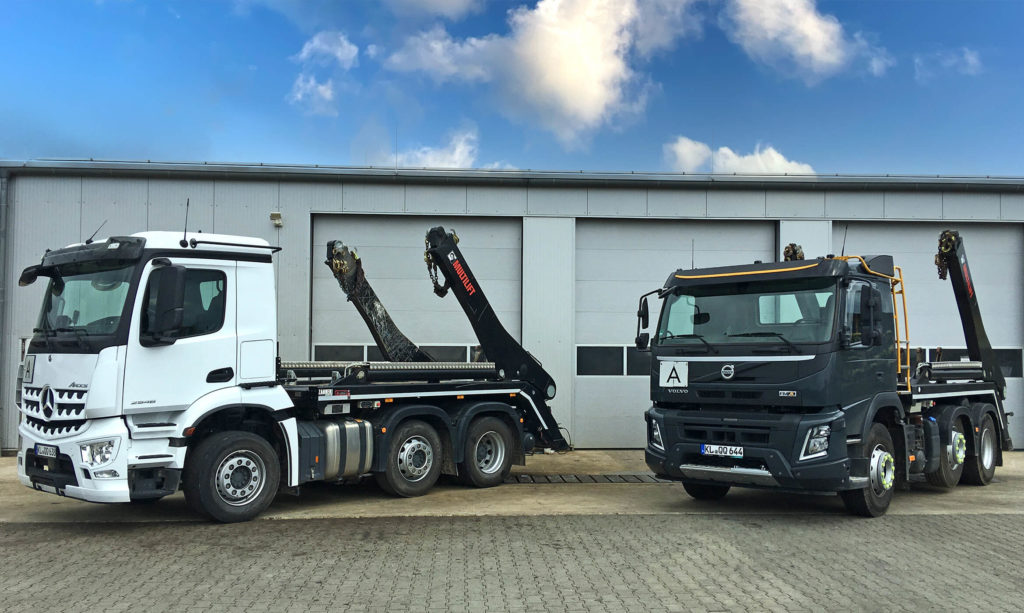 THE RIGHT SKIP LOADER FOR EVERY JOB
Which wheelbase results from the respective body and provides the required maneuverability and stability? What engine power is required in the area of application of the tipper, taking into account the terrain and total weight? Whether 2 axle or 3 axle, whether functional day cab or cabin with couch for larger tours and long-distance transport, we configure your skip loader with years of experience in the industry and know-how on the cutting edge of technology. At ROCKBIRD, you can rent the right skip loader from a large fleet to increase efficiency and flexibility.
As an extension to your dump truck with trailer hitch, you will also find various trailers for rent in our fleet. With a roll-off trailer you achieve more loading capacity per trip, which not only saves fuel but also personnel. Of course, you can also rent roll-off tippers from us for transporting roll-off containers, for example, if more material is to be transported over longer distances, or three-way tippers for use without containers. Alternatively, we offer other commercial vehicles such as tractor units with sliding floor trailers for transporting bulk materials. Our construction machinery and commercial vehicles are in operation throughout Germany with a large service network, as well in Poland, Austria and Switzerland.