THE PAGE

FOR KIDS
Children are the future – and so we are especially happy that the number of our very young ROCKBIRD friends is growing. Not every child has the opportunity to sit in an excavator and often there are no large construction sites or recycling yards nearby where kids can observe the comings and goings on the site. This is why we want to offer the little fans of big machines some fun: let's start with a coloring page for kids to color – and we have even more ideas for you!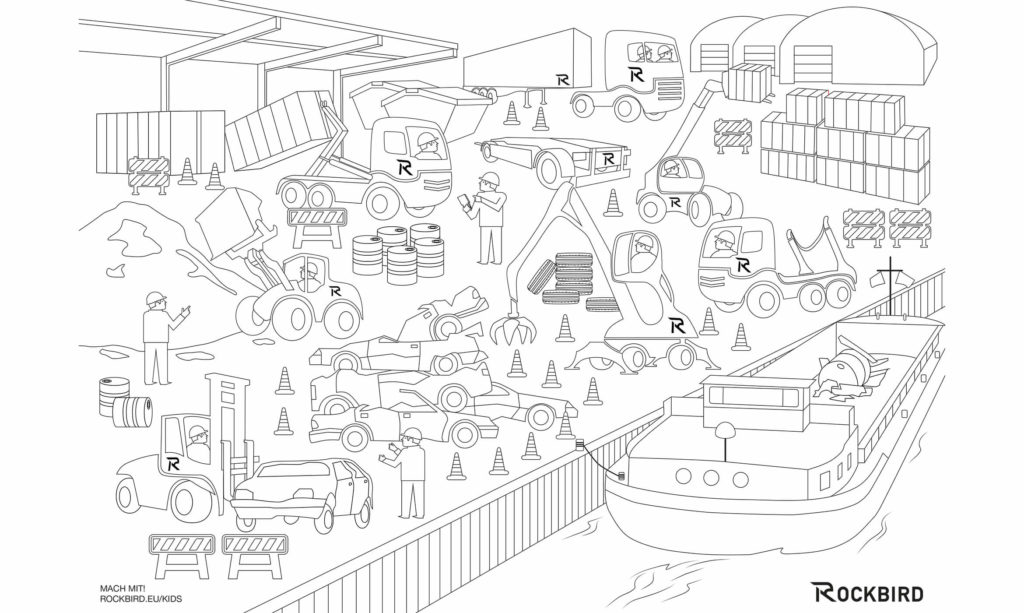 COLORING PAGES
There is a lot to discover here: there are many machines and commercial vehicles working at the scrap yard in the port. Do you know what they are called? How many R's did you count in the picture?
Use the link below to download the print template, print the coloring page and use a rainbow of colors to color it in – just the way you like it! What is the color of your wheel loader? And what is the name of your ship? Are the employees on site clearly visible, for their safety?
We are looking forward to seeing your pictures and would appreciate it if you could scan (or photograph) the finished pictures and send them to us by email to marketing@rockbird.eu. We will show them here in the gallery. Or you can post your pictures on Instagram using the hashtag #rockbird4kids.
Start coloring and have fun!